We've added to our already impressive Stoves range cooker collection, with their new and improved range of Sterling and Richmond cookers. Aesthetically pleasing in an array of classic Stoves colours, these cookers have oodles of style to compliment your kitchen. With fantastic features to enhance your culinary skills, these cookers are the perfect option for any and every kitchen. Whether you want to create the perfect family roast weekly with even cooking distribution, make pizzas with the kids and cook them to cheesy perfection or simply have more heat intensity from your hob, Stoves have you covered.
Let's break down a few of the new models. I've picked four at random, well I picked four that have plenty to talk about (plus they look good too!)
Stoves Richmond S900DFCC
90cm dual fuel range cooker in cream.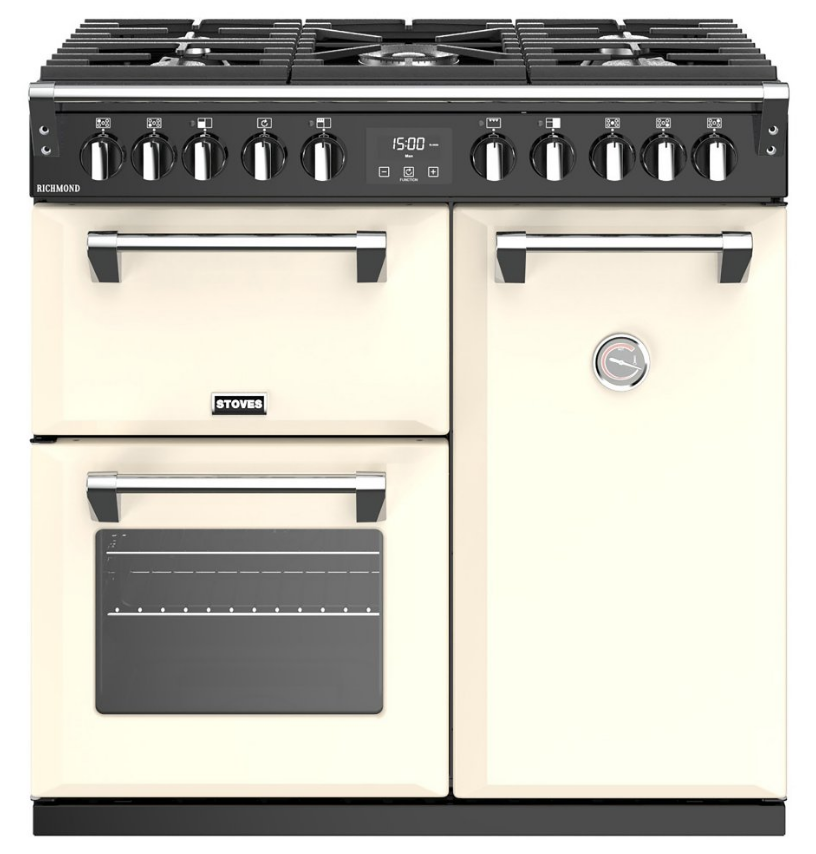 This fantastic multifunction oven offers options including Fanned, Defrost and Slow Cook, with special options such as Bread Proving, for all the aspiring bakers out there. Great for those rainy days with the kiddies, baking cookies and sweet treats! EquiFlow technology ensures even heat distribution for great results with every dish you cook. Ideal for those Sunday roasts. Also with a great capacity secondary electric oven and spacious grill with double extension telescopic rails, you can make the most of all the versatility offered. Finally, topped with a five burner hob complete with Stoves' Power Wok for intense heat, there is plenty of space for all your pans. You are sure to impress your friends with this cooker.
Stoves Sterling S1000DFBK
100cm dual fuel range cooker in black.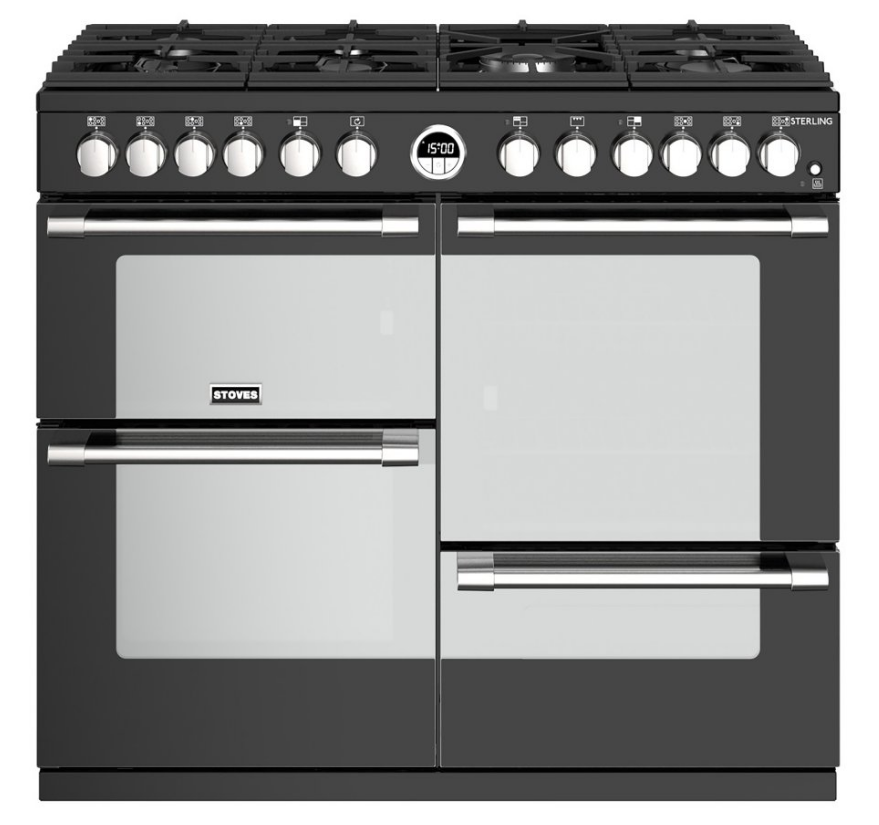 This stunning 100cm Sterling range cooker from Stoves is packed full of features to make cooking the pleasure it should be. With a brilliant multifunction, main oven offering 13 cooking modes, including Pizza and Bread Proving options, release your inner baker! Who needs takeaway pizza when you can make your own?! I'll have extra pineapple on mine please, thanks in advance! Our favourite thing about this cooker is the slow cooker compartment, perfect for those winter evenings. Succulent casseroles and tender meat that falls apart, you'll become the master of all things slow cooked in no time. Finally, topped with a superb 7 burner gas hob top including Stoves' Power Wok function for intense heat, this range cooker is the perfect addition to any kitchen.
Stoves Richmond DX S900DFBK
90cm dual fuel range cooker in black.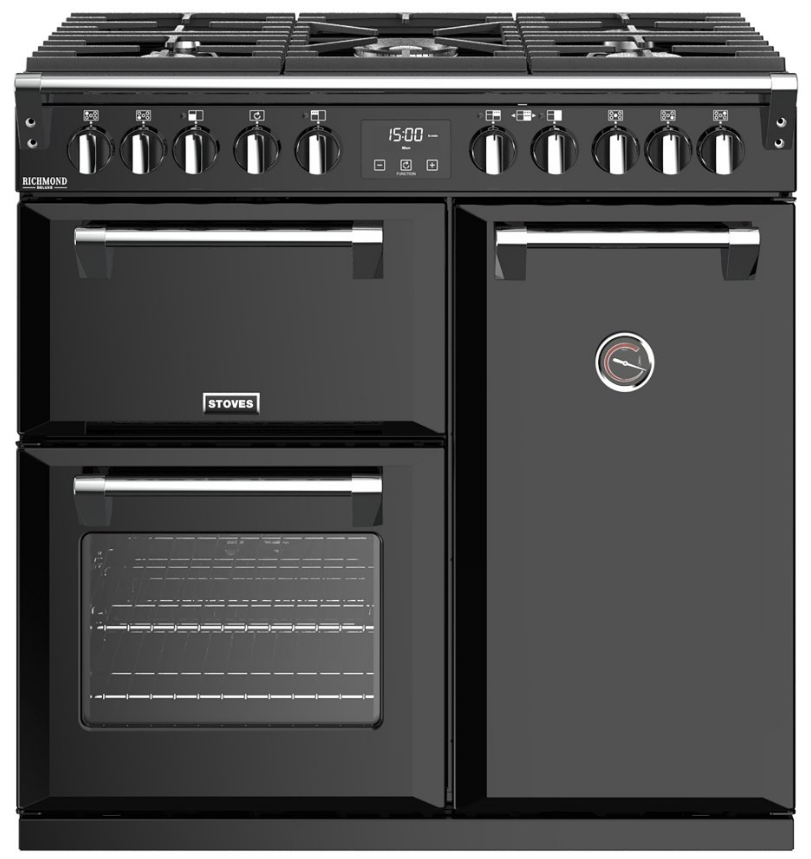 Incredibly flexible, this superb 90cm wide Richmond Deluxe from Stoves is ideal for busy kitchens. With a brilliant 164 litre capacity, the main multifunction oven, 'Titan' secondary electric oven and separate grill compartment offer plenty of space. With the option of using the ProFlex system you can split the tall oven into two, using exactly what space you need. With Zeus (it must be god like) technology using your Bluetooth allows you to remotely monitor programmes, plus the fantastic Steam and Infuse cooking system allows you to create healthy, flavourful dishes using the supplied accessories. Cooking has never been so good!
Stoves Sterling DX S900GSS
Sterling 90cm gas range cooker in stainless steel.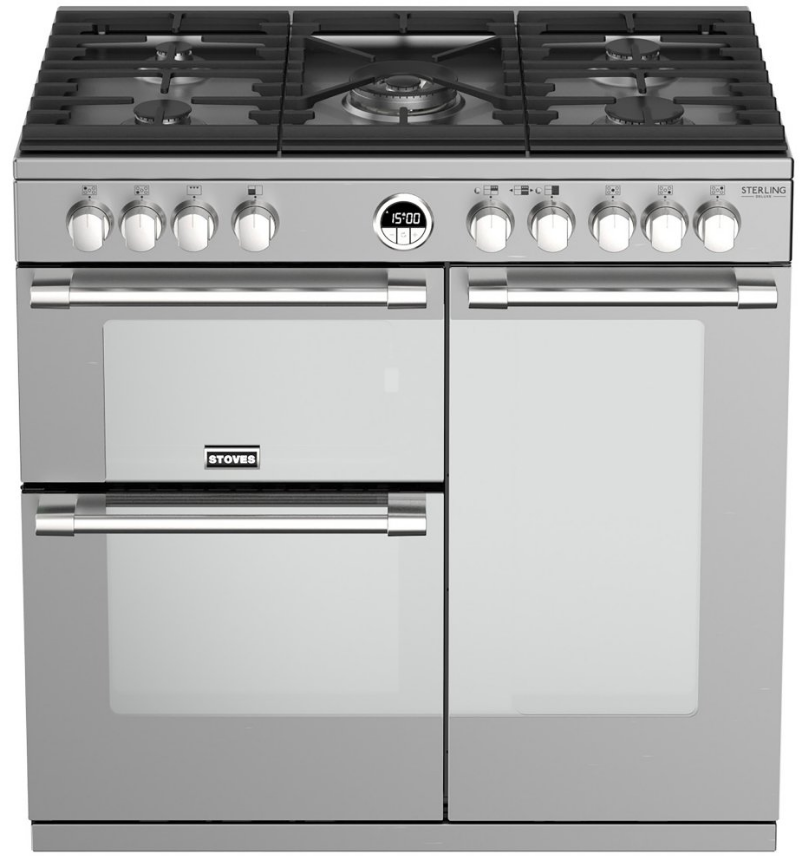 Traditional gas cooking in a modern cooker. With a great capacity, main oven and grill compartment in this 90cm wide Sterling Deluxe range cooker, there is plenty of space for gas cooking. Handily, there is a huge 79-litre capacity electric oven, which runs off a 13amp power supply for extra versatility. With five gas burners including the Power Wok, for more intense heat, there is plenty of pan space for all that scrummy cooking you plan to do. Finished in black with mirrored glass, this model looks fantastic and with Zeus (that god like tech again) Bluetooth connectivity available to the Maxi Clock, you can remotely check the programme, great for when you are busy putting together a feast for your family and friends.
So, there you have it, a little sneak peek into the brand-new range from Stoves. This range has more than just the four models mentioned in this blog though, also available in a variation of other sizes and fuel types. Find your perfect Stoves range cooker here…
If you want to shop around, we stock some other market-leading brands in our range cookers section. There are other great ovens in our cooking section. If you want to take advantage of our multibuy feature, browse from our dishwashers, extraction appliances, laundry appliances and refrigeration range, including our line of American-Style Fridge Freezers. If you require more information on Stoves new range of cookers, or any other Stoves appliances then don't hesitate to give a member of our team a call. They are always happy to help 🙂 0115 965 1937