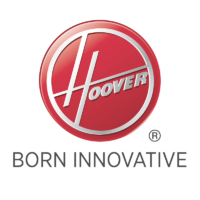 Hoover remains the name you can trust for quality appliances that are modern, dependable, functional and simple to use. Hoover's washing machines, tumble dryers, dishwashers and refrigeration ranges have all been designed using the latest technology to help make your busy life easier. Drawing upon their vast experience Hoover have added a whole new range of intelligent and technologically advanced features that meet practical needs, not just for today but for the future as well.
Browse AEG by category
Hoover's laundry range, provides the latest technology to make your life easier.
Hoover don't develop technology simply for technology's sake, all features have to perform a practical job and help make their washing machines reliable, uncomplicated and easy to use. That's why Hoover's laundry range is packed full of convenient features.
Hoover's refrigeration range is designed to deliver style, efficiency and versatility. Their appliances integrate and co-ordinate with the rest of your kitchen setting. Everyone has different refrigeration storage requirements – that's why Hoover have developed a range of models to suit all tastes.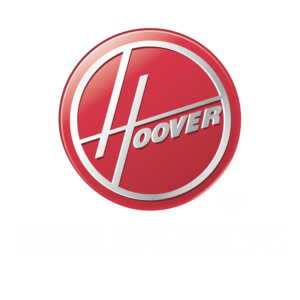 About Hoover
With over 100 years experience, Hoover are up there with the best of the best. Now in the era of smartphones and Always-On connections, Hoover is yet again ahead of the times and launches a range of washing machines, dishwashers, refrigerators, ovens, hoods and hobs that can be actioned, managed and monitored from a mobile device, using the Hoover Wizard App.
Savvy, stylish & suited to you!
Hoover's new laundry range is equipped with innovative artificial intelligence, which can understand your voice, your laundry habits and provide washing and drying solutions personalised to your family's life and needs.
Fully Wi-Fi connected with a host of bespoke functions you can control AXI via Hoovers Wizard App, using Amazon Alexa or Google Assistant.
With an array of fantastic features such as AXI Suggests, which suggests the most appropriate programme for your load as well as save your most frequently used cycles, AXI Auto Dose, which is a exclusive Care Dose system that automatically adds exactly the right amount of detergent and softener, based on water hardness and the cycle selected – this lasts up to 21 cycles! And a steam function which enables you to reduce your ironing time or refresh clothes without having to fully wash them!
The perfect companion for your busy family home.
This fantastic fully integrated heat pump condenser dryer from Hoover is the first of its kind currently on the market! Boasting 15 sensor drying programmes including anti-crease, anti-odours and waterproof revitalise this Woolmark accredited dryer is the perfect choice for a busy household.
Featuring Hoovers fantastic All-In-One technology which allows you to dry different fabrics together, makes drying big loads a doddle. This model also boasts WiFi features such as Hoovers Wizard App so you can control your laundry from your smart phone. Simply download the app and place your Android on to your appliance and expand your drying horizon.
Hoover One Touch
Control Your Appliance through your Android Smartphone – download new programmes, check the health of your appliance, view usage reports and more….
Hoover presents a most clever way to get the best for your laundry: One Touch, the connection system with NFC technology and an innovative APP. Keep the state of your appliance under control for maximum efficiency and best results every day.
Simply by downloading the Hoover Wizard App and placing your smartphone on the appliance, you can expand your washing horizons and find the most suitable type of washing for your needs.
Hoover Vision Oven
The Vision electric oven from Hoover is the new interactive way to cook. This multifunctional model has a fantastic range of cooking functions to choose from, so you can cook the perfect dish every time. From delicious starters, meaty mains and indulgent desserts, you will get the perfect dish time and time again.
Totally unique to this oven is its 19 inch, fully interactive touchscreen door that lets you adjust settings with a tap of your finger. It also has a superb built-in HD camera inside, which lets you check on your food without having to open the door. Keeping the heat in for precise cooking.
This oven works with the brilliant Hoover Wizard app too, so you can watch an array of recipe videos, save your favourite meal ideas to the virtual cookbook and most importantly watch your food as it cooks, all from your compatible smartphone. This model has been designed to fit into tall housing or under your worktop. Cook like you've never cooked before with the Vision electric oven from Hoover. The future at your fingertips.
Hoover 16 place dishwashers
Hoover 16 place setting dishwashers are 33% larger than a standard dishwasher, allowing you to wash up to 176 items in one wash load, making them ideal for any family.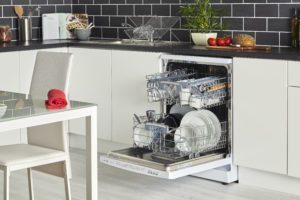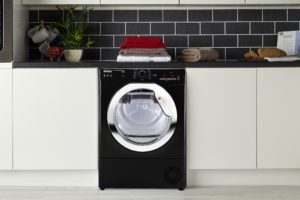 Hoover Aquavision
Aquavision is a unique, patented water reservoir built into the door of a number of Hoover Tumble Dryers. The container has a convenient handle for easy removal & to see when the water needs emptying.