The Faber story – and with it the story of the kitchen hood began a long time ago in a small workshop. Quite a few years have passed since then. Decades in fact, during which they have concentrated on improving the design, functionality and quality of their cooker hoods. And it looks as if they have done a good job, because today they're one of the world's top hood manufacturers. Faber was the first company ever to make kitchen hoods, and they still are the number one today, in quality and quantity.
In Italy one out of every two hoods is a Faber hood.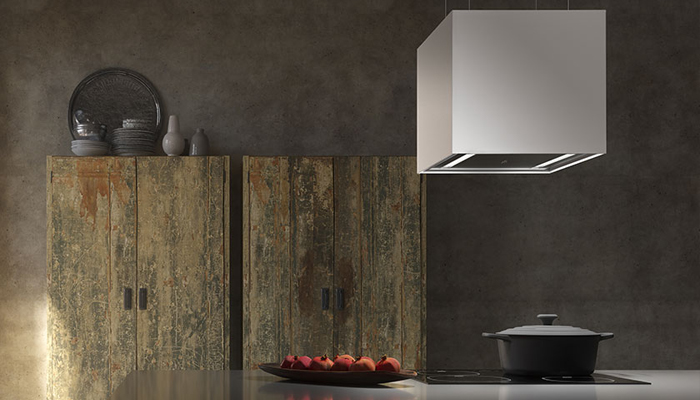 Faber's island hoods provide a focal point in any kitchen. The selection of beautiful island hoods will not only enhance your space but most importantly provide effective extraction.
If you want a cooker hood which is a little less in your face then a stunning Faber ceiling hood is the right choice. Faber ceiling hoods use perimeter extraction for increased efficiency.
If you want something that is discrete but doesn't compromise on efficiency, then a Faber downdraft hood is the perfect choice. Flexible, downdraft extraction at the touch of a button. Ideal for a seamless finish to your kitchen.
Using only the finest materials for their chimney hoods, Faber have designed these hoods to be an attractive addition in your kitchen. They conceal a powerful motor and provide you with clean air.
Browse AEG by category

About Faber
Faber have been around for decades, during which time they have concentrated on improving the design, functionality and quality of their hoods. Today they are one of the world's top hood manufacturers. Faber was the first company ever to make kitchen hoods, and are still the number one today, in quality and quantity. 
The stunning Galileo venting induction hob by Faber is an innovative new flush fitting combination hob and hood extractor. This is a beautiful addition to Faber's range! Designed for ease and flexibility whilst cooking, this hob has 4 induction zones that can bridge to 2 large zones making it ideal for cooking with larger pans and fits perfectly into a 60cm wide worktop. The Galileo can be installed with drawers underneath the worktop due to space saving technology. The perfect hob and hood in one!
The Faber Tweet is a classic angled glass wall hood with impeccable sharp lines and powerful extraction power. Stunning in design it will look fantastic in any kitchen. Available in both black glass or white glass and with two widths to choose from; 80cm or 55cm, the Tweet is the ideal choice if an angled wall hood is your style. The Tweet is supplied with matching white or black chimney kits too.
This fantastic hood from Faber is the next generation in ceiling cooker hoods. Using the elegant and simple aesthetics of the original Skypad, the Skypad 2.0 gives powerful recirculating extraction thanks to the twin motor power it features. The Skypad 2.0 is fixed directly in to the ceiling, which makes it the perfect solution when space is at a minimum.
Featuring a white glass perimeter extraction panel with a sleek stainless steel body, the elegant LED light strips illuminate the cooking area below creating the perfect kitchen ambience. The Skypad 2.0 is supplied with a remote control for ease of use and can also be controlled via a Faber induction hob.
The Heaven 2.0 slim is a stunning example of a built-in ceiling mounted cooker hood and an update of a much loved Faber model. Perfect for an island kitchen design, the Heaven 2.0 slim frees up valuable space in the kitchen.
Using the same outer aesthetics as the Heaven 2.0, the Heaven 2.0 SLIM models have a decreased inward depth, with a significantly reduced motor height to aid installation within confined ceiling spaces. Sleek and stylish in stainless steel with 4 LED lights for perfect illumination, this hood has superior extraction power and an A+ plus energy rating. With several sizes to choose from the Heaven 2.0 slim is the ideal option for any modern kitchen.
The stunning Fabula downdraft cooker hood is designed to be built into the kitchen work top. Sitting behind the hob, the Fabula uses up&down movement to raise out of the counter top during use and lower back down after cooking leaving an unobstructed space in the kitchen – perfect for if you are looking for a more minimalistic look and feel to your kitchen.
The Fabula uses touch control technology however it can also be controlled by an optional remote control. This hood has a black or white glass visible panel on the surface of the counter, which is complemented by a glass panel which is shown when the hood is raised and an LED light strip illuminates the hob area in front of the hood.
The stunning Cocktail cooker hood has a variety of colour options including black glass, white glass and even almond grey glass! With LED lights that perfectly illuminate the cooking area in an efficient way and superb touch control technology, the Cocktail is the perfect addition to a contemporary kitchen design. It also has many of Faber's unique features such as a dimmable lights and the intensive speed, which activates maximum extraction for 6 minutes to eliminate odours and smoke before returning to the previous setting.
The Cocktail XS is a compact version of the Cocktail wall mounted cooker hood shown above. With the familiar modern aesthetics of the Cocktail hood, the Cocktail XS is available in black glass, white glass and almond grey glass finishes. This model is 55cm wide, making it a petite cooker hood, so perfect for smaller kitchens. However just because its petite, it doesn't make it any less powerful!
The Inca Lux 2.0 is Faber's most popular integrated cooker hood. With timeless design and a stainless steel finish, the Inca Lux 2.0 looks fantastic in any kitchen design. The Inca Lux 2.0 is easy to integrate into kitchen cabinets due to its slim depth and the perimeter extraction panel increases the extraction area by 20cm more than the hob width. Available in a variety of sizes and two glass options, there is an Inca Lux suitable for every kitchen style.
The T-Light island hood is part of the "Light" Family from Faber and is a unique t-shaped wall mounted cooker hood. The T-Light has smooth curved edges which has a stunning perimeter LED light strip which reflects the hoods shape.
The T-Light is available in either a 90cm width or a 120cm width and has a choice of either a matt white finish or stainless steel, you will be sure to make a great choice for your kitchen.
The In-Light is part of the "Light" family of cooker hoods from Faber.
It is a stylish integrated design cooker hood that can be easily installed into cabinets, making it perfect for if space is at a minimum or if you want something understated and hidden. .
The In-Light has beautiful perimeter LED lighting that provides a consistent light source to the hob area beneath. With two width choices and two stylish finishes; Matt White and Stainless Steel, the In-Light will be the perfect addition to any kitchen style.
The High-Light is an innovative addition to Faber's collection of ceiling mounted cooker hoods. The High-Light is a member of the "Light" family of cooker hoods. This hood features stylish perimeter LED lighting and is available in a choice of finishes including stainless steel and matt white. The High-Light has 2 widths to choose from and comes equipped with a remote control for ease of use.
The Daisy B is a contemporary styled wall mounted cooker hood with versatile installation options. You can choose to top or rear duct this hood. With an angled glass exterior panel with stainless steel detail, the Daisy B gives you the option of two finishes; black glass or white glass. Available in a petite width of 55cm or a larger width off 80cm the Daisy will fit both small or large kitchens.
The Daisy B is supplied with a stainless steel chimney kit, however this versatile cooker hood can also be installed with ducting that connects straight out of the rear of the appliance, giving you complete flexibility in which installation option to choose.