We've worked hard to ensure our showroom is full of all the latest appliances, including our best sellers and exclusive models, so that you can really visualise your ideal kitchen in the flesh!
Not only that, we have some models available for demonstration too! Below is a selection of  'Hero' products we currently have on display.

We have over 34 years of appliance expertise, striving to ensure you get your perfect bespoke kitchen package, with the best service from start to finish, partnered with the best possible price. We are however, more than just an online retailer! We have an incredible showroom full of all the latest products so you can really envisage your new kitchen, up close and personal! Situated in a village called Bunny, just outside of Nottingham and a short drive from Loughborough, customers visit our showroom from all over the UK, simply to get unrivalled product advice, customer service and fantastic prices.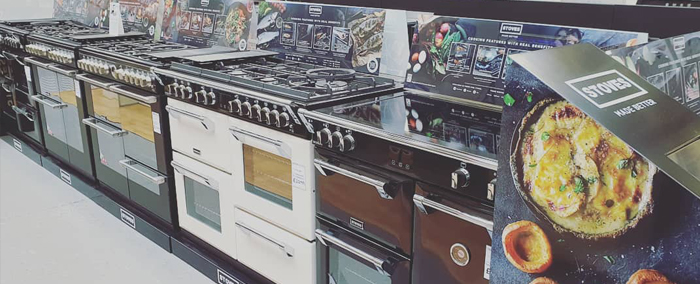 Our showroom has over 40 range cookers by top brands such as Rangemaster, Stoves, Belling and Smeg, and a fantastic selection of American fridge freezers from Samsung, LG and Fisher & Paykel, simply to name a few! Plus, an array of washing machines, dryers and washer dryers, fridges and freezers, dishwashers, built-in ovens, hobs, cooker hoods, wine coolers, you name it we've got it, and from top brands like Miele, Bosch, Neff, Siemens, AEG, Liebherr, plus many many more! Also, we have popular appliances such as the Elica Nikolatesla Switch, AEG ComfortLift, the Samsung Family Hub & LG Instaview on display!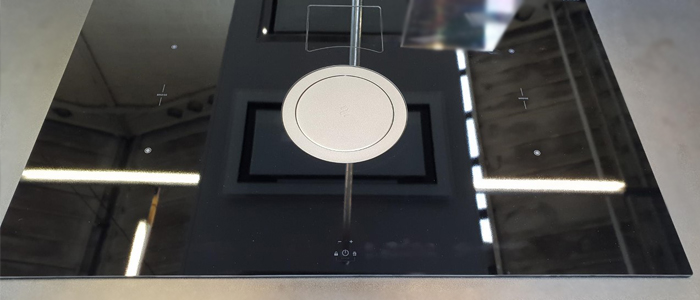 The stunning NikolaTesla Switch is the latest downdraft induction cooktop by Elica created to revolutionise your daily cooking experience and turn the point of view of the kitchen, quite literally, upside down. The Switch has four cooking zones featuring the latest generation induction system and is equipped with a double bridge function allowing two adjacent zones to work simultaneously. This gives you the flexibility of uniform cooking even when using larger sized pots and pans. Available in a sophisticated black ceramic glass with details in cast iron and in the more versatile white ceramic glass version combined with polished steel. Two stunning colours to add the wow factor to your kitchen.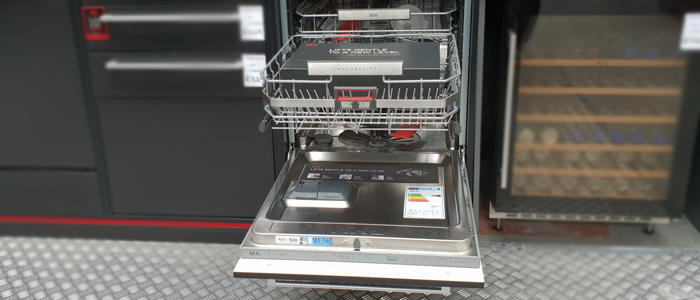 The AEG ComfortLift dishwashers combine cutting edge technology with award winning design. The unique and innovative lifting mechanism that allows the lower rack to be lifted towards the user has been recognised with a prestigious iF gold design award as well as an esteemed Red Dot award. The ComfortLift has space for 13 place settings and 6 wash programmes so, this dishwasher is ideal for even the busiest households. Boasting a fantastic A++ energy rating and an incredibly quiet 44 decibel noise level, this machine will slip seamlessly into your kitchen and you'll wonder how you ever managed without it! No more bending down, over stretching and feeling uncomfortable loading your dishwasher.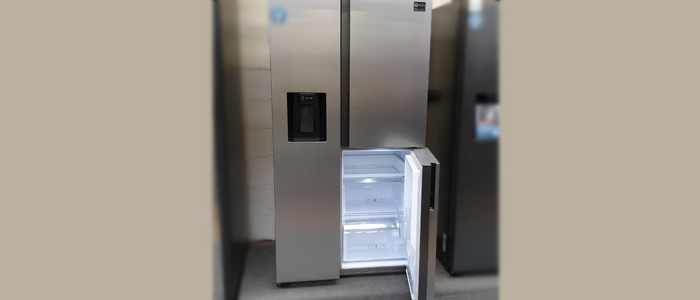 Boasting 604 litres of storage space, holding up to an impressive 33 bags of shopping, you will have less shopping trips to make! It is ideal for larger families and those of you who love to entertain. Everybody loves a fridge full of party food and drink. Samsung's exclusive Twin Cooling Plus system keeps your food fresher for longer so you have less wasted food and lower food bills. The separate cooling systems keep your fridge and freezer at their individual optimum temperatures and prevents odours from transferring. It features cool LED internal lighting and an external ice and water dispenser which is tall enough for jugs, making it ideal for pitchers of ice cold water on those long summer days we dream of.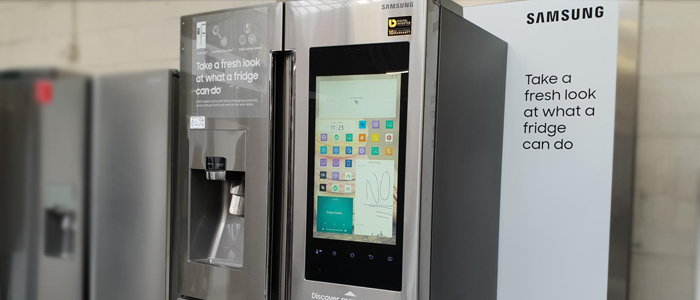 The Samsung Family Hub is the pillar of cutting edge technology. It is a Lifestyle fridge freezer! You are getting a 21.5 inch HD Multimedia Touch Screen system with entertainment, family connection and food management. You will have recipes, a snapshot of what's in your fridge, music, TV mirroring, family planner and memo board all at your fingertips. This fridge freezer offers you a very impressive 593 litres of space which benefits from Twin Cooling to maintain optimum temperatures for food storage. A really sleek ice and water dispenser adds a touch of well deserved luxury to this fabulous fridge freezer.
This stunning Instaview door-in-door fridge freezer from LG is filled with the latest innovative design and technology. It has a sleek mirrored glass panel that illuminates with two quick knocks on the glass. This allows you to see inside the easy access compartment without ever opening the door, therefore reducing cold air loss to help keep food much fresher for longer. It boasts features such as Centrum System, FreshShield Cooling, Custom Chill pantry and Pure N Fresh. So, with an array of superb features and a stunning design both inside and out, this LG Instaview is the perfect choice for any kitchen.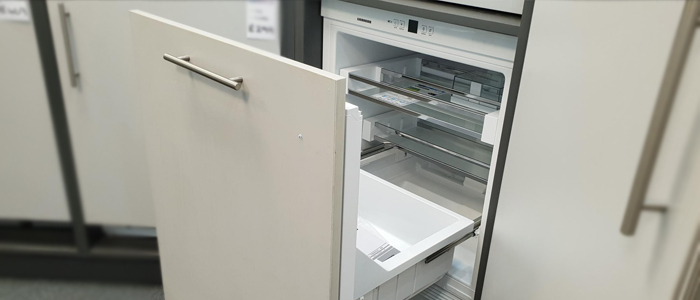 Prepare to make a statement in your kitchen, thanks to Liebherr's outstanding built-under larder fridge. Designed to be fitted under a worktop, you can attach a furniture door for a sleek finish. Not just an ordinary fridge though, as the door slides out, enabling the shelves to be smoothly pulled out on runners for incredible, easy access! No struggling to reach the carrot that's fallen to the bottom of the drawer, or jar that's been pushed behind the others. You can feel Liebherr's incredible quality in the sturdy shelves and elegant movement every time you open the door. Boasting a generous 123 litres of capacity, there's plenty of space!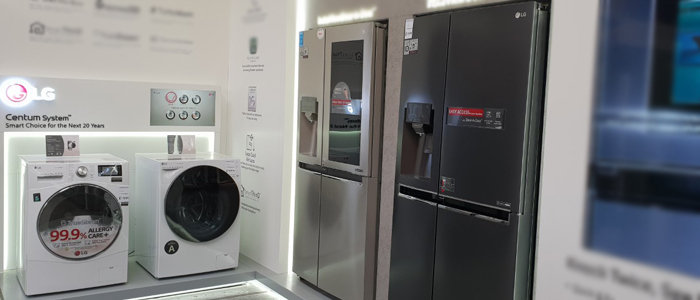 Our LG stand showcases the latest laundry and refrigeration technology on the market. Featuring the FH6F9BDS2 Centum Direct Drive steam washing machine which is not just quiet because of the clever direct drive motor, utilising electromagnets to directly turn the drum, but full of vibration reducing systems making it an even more gentle system! Plus the FH6G1BCH2N Direct Drive TrueSteam washer dryer that boasts True steam technology which supports allergy care, steam softener and steam refresh programmes delivering nothing but thorough cleansing. Moving on to refrigeration the GSX961NSAZ Instaview Door-In-door non plumbed American style fridge freezer showcases the fantastic sleek mirrored glass panel that illuminates with two quick knocks, allowing you to see inside the easy access compartment. And finally, the GSJ961MTAZ non-plumbed Door-In-Door American style fridge freezer showcases LG's stunning brushed matte black finish!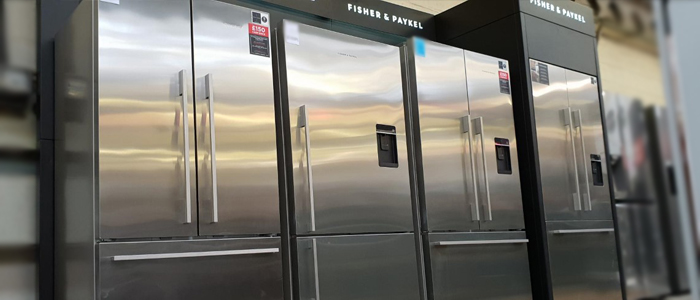 Fisher & Paykel's stand in our showroom showcases a selection of their stunning refrigeration range. Including models such as the RF522ADX4 French style fridge freezer and the right hinged RF522WDRX4 fridge freezer which both feature Active Smart technology. This allows the fridge to intelligently adapt to daily use in order to save energy whilst keeping your food fresher for longer. The beautiful RF540ADUX4 Goliath French style fridge freezer with ice & water is not only stunning in design but perfect for larger families. The roomy fridge has great adjustable shelving and drawers, large door pockets and humidity controlled drawers, perfect for keeping the conditions for your fruit and vegetables appropriately moist. Finally, the RS90AU1 integrated French style fridge freezer with ice & water option showcases how perfectly flush this fridge freezer would sit integrated into your kitchen design, making it the perfect option for any modern home!