Sinks & taps are no longer a last minute consideration, you should think carefully about how you want to use them and choose accordingly.
When choosing your new sink and tap it's important to consider how you'll be using them and how they will be fitted. With so many sink options available including under-mounted, inset and flush mounted it's important to get it right. And then there's the finish to consider, granite, stainless steel, ceramic? The options are endless!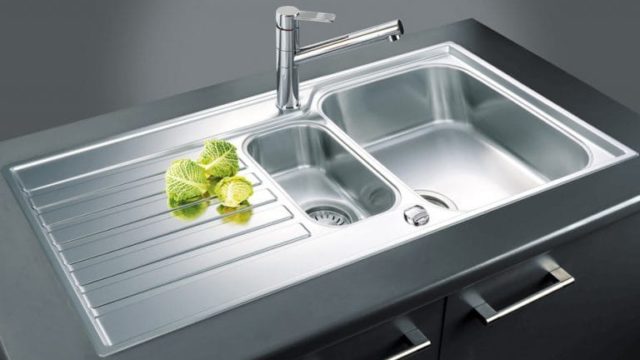 Inset sinks are a classic method of installation which involves your sink being installed from above into a pre-prepared hole in your worktop. This gives you a wide range of sink shapes, sizes and styles to choose from, so no matter what your preference is you can be sure to find an inset style sink to suit your kitchen. We have a wide range of Franke sinks in a variety of sizes. Plus, with materials such as Fragranite, Ceramic and Tectonite and up to 11 colours to choose from including popular choices like Black, Coffee, Copper, Stainless Steel, Grey and White, you are sure to find your perfect match.
Under-mount sinks are particularly pleasing when combined with granite, wood or solid surface worktops, as they allow for smooth, uninterrupted surfaces. Fitted underneath the work surface, it gives a flawless, edgeless finish that is not only easy to clean but is perfectly integrated into the kitchen environment. Available in a variety of sizes and with up to 13 colours to choose from such as Graphite, Black, Coffee, and Stainless Steel, and the choice of materials like Fragranite, Ceramic and Tectonite, there are plenty of Franke sink styles, sizes and colours for every kitchen design.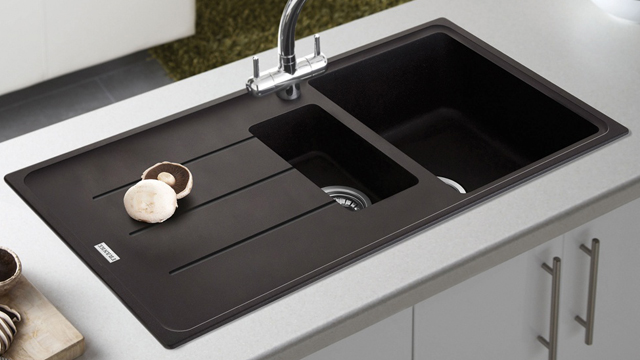 Sinks can often be left last on the list to sort out when it comes to designing a new kitchen however they are an incredibly important part of any kitchen and can be an important focal piece. Whether its silk steel, granite, quartz, porcelain, single bowl, double bowl, top mount or under mount your perfect sink is right here. Consider the size of your family and how many pots you are likely to have day to day. We have a wide range of inset, Under-mount and Belfast sinks in an array of stunning colours, finishes and a variation of sizes to suit every kind of kitchen design. View all our sink options here.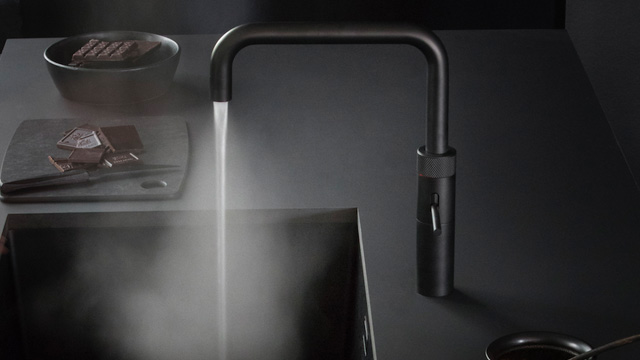 Boiling water taps are incredibly handy, with instant boiling water at the twist of the tap, whenever you want! Not only that, they save both energy and water. Most boiling water taps enable you to have the exact amount of boiling water you need without wastage. We have a fantastic range of both 3-in-1 and 4-in-1 boiling water taps to choose from by top brands Quooker and Franke. With plenty of safety features and a variation of styles and finishes to choose from, boiling water taps are the ideal space saving, energy efficient and money saving choice for your kitchen.
Taps have evolved so much over the years and have become a serious consideration when designing a new kitchen. Traditional taps just consist of a hot tap and a cold tap. But like most things, taps are now much more advanced than just that. Taps now come in many practical variations including hot and cold taps, steaming hot water taps, 3-in-1 or 4-in-1 hot, cold, boiling and filtered cold water. They also vary in many shapes, sizes and designs and now have more colour choices than ever before so you really can find the perfect match for your kitchen design.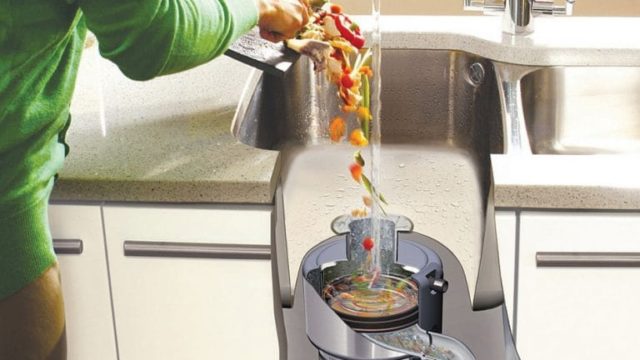 Waste disposal units have been around for years but still not enough people invest in one. There is nothing worse than coming home to a smelly bin, so why not dispose of your food waste quickly and efficiently. It will munch through chicken bones, vegetable peelings, teabags and pretty much anything else you throw at it, within reason of course. Make your kitchen cleaner and greener! We have a great variety of waste disposal units with many variations of motor speeds to suit all household sizes. The bigger your family and food wastage the higher the horsepower!
Waste disposal units
Waste disposal units are perfect if you want a cleaner, greener kitchen. Eliminate those awful odours the bin normally creates and be environmentally friendly, reducing landfill waste by flushing it into the sewers.
How it works…
Run water and put your food down the disposer. Once the waste disposer unit has processed the food waste, the food waste goes into the sewer and the waste is then directed to a local sewage treatment plant. The sewage treatment plant breaks down the food waste with bacteria and this is therefore deemed a natural decomposition of the organic material.
Depending on the sewage plant will determine where the material then goes. Some sewage plants release the biodegradable material into the ocean, some redirect as compost and some use the material to create bio gas for electricity.
Make your kitchen cleaner and greener!
Boiling water taps
Save energy & water!
Boiling water taps are incredibly handy, instant boiling water at the twist of the tap, whenever you want! Not only that, they save both energy and water. Most boiling water taps enable you to have the exact amount of boiling water you need without wastage. You no longer need to run the tap for ages to get warm water so you will see the benefit in your monthly energy bills.
With instant access to 100°C water, energy efficiency and money-saving thanks to the lack of wastage and heat up times and 100% safety guaranteed, these multi-purpose taps are the perfect choice for any kitchen. As they say, every little helps.
Helps your pockets and the environment!