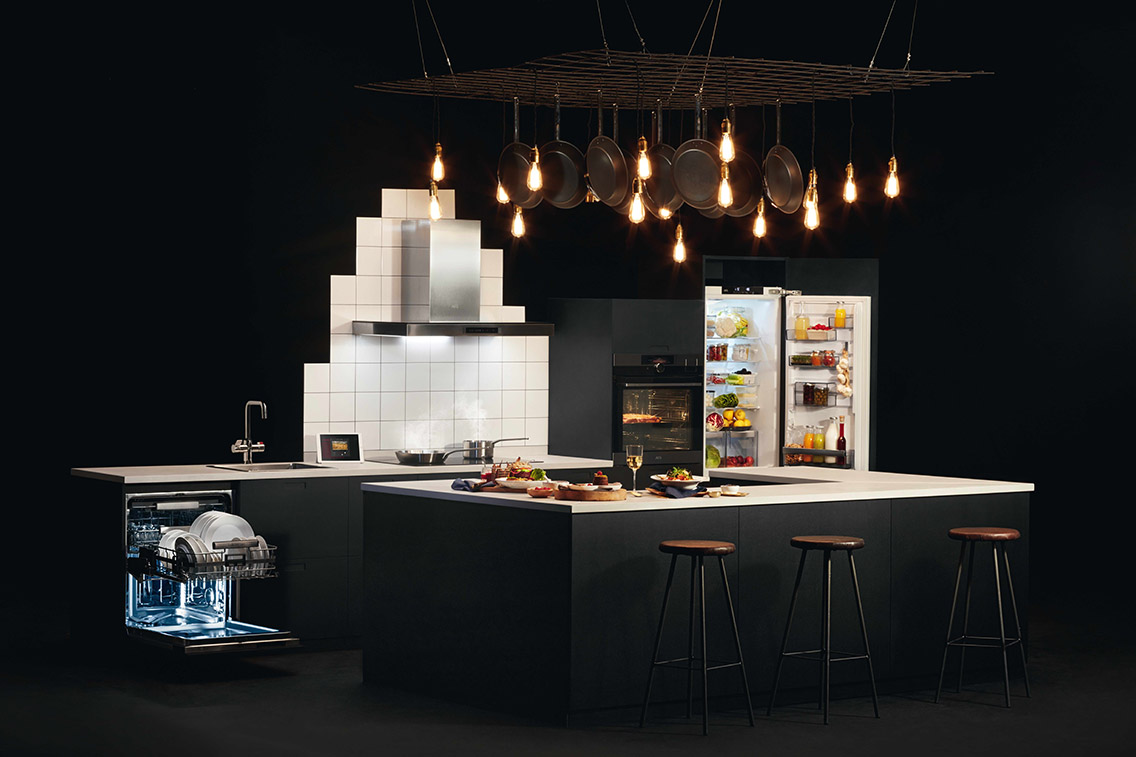 AEG have released a whole new generation of cooking appliances to take your culinary skills to another level. The world's first truly responsive cooking experience. The new AEG mastery range works with you in unique ways to advance your cooking beyond belief. You don't have to be a top chef to enjoy this intuitive cooking experience though. Whether you want to cook a tender joint, a simple spaghetti Bolognese or bake a Victoria sponge cake, the Mastery Range will assist you to reach new levels of excellence.
Imagine stepping into your kitchen and having it respond to your individual cooking style and flexes to your unique needs. Sounds good, right? Whether you're cooking up a feast for your friends and family, or a simple week night put together, the AEG Mastery Range will intuitively respond, helping you to focus on perfecting your culinary vision and skills.
The new range automatically optimises your environment, the powerful extraction when you're searing scallops or steak, quieter extraction when you're slowly simmering. No more having to shout over the noise of the fan! AEG have placed responsive technology at the heart of the Mastery Range to create and assist you in the right place at the right time.
Let's talk the range…
ComfortLift
Lifts gentle to a new level…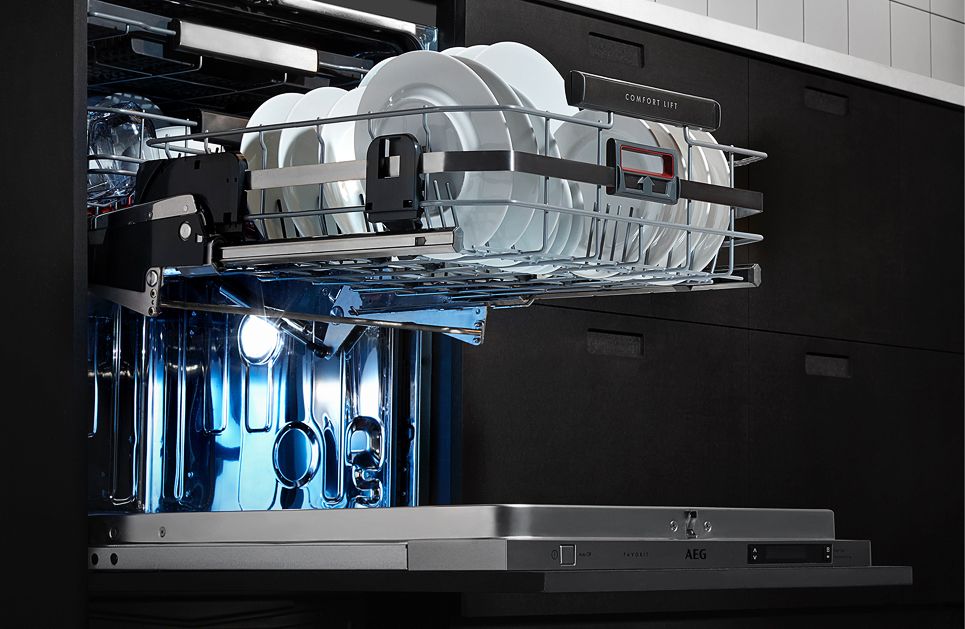 The ComfortLift is designed with you in mind, making it easier for you in your kitchen. The new ComfortLift is the first dishwasher in the world that lets you gently slide and lift the lower basket upwards. Your pots, pans and glasses ascend to a convenient working height, so you shouldn't need to bend down at any point – great for those of us with back problems. So now you have a functional dishwasher that is designed with your needs in mind, you can unload more efficiently and stack more effectively. Sounds clever, right? It is safe to say it looks the part as well as taking functionality to another level.
The ComfortLift combines cutting edge technology with award winning design. It has been awarded for its innovative design! The unique and innovative lifting mechanism that allows the lower rack to be lifted towards you has been recognised with a prestigious IF Gold Design Award as well as an esteemed Red Dot Award. So, you can feel confident about your purchase with AEG.
CustomFlex
A fresh look at storage…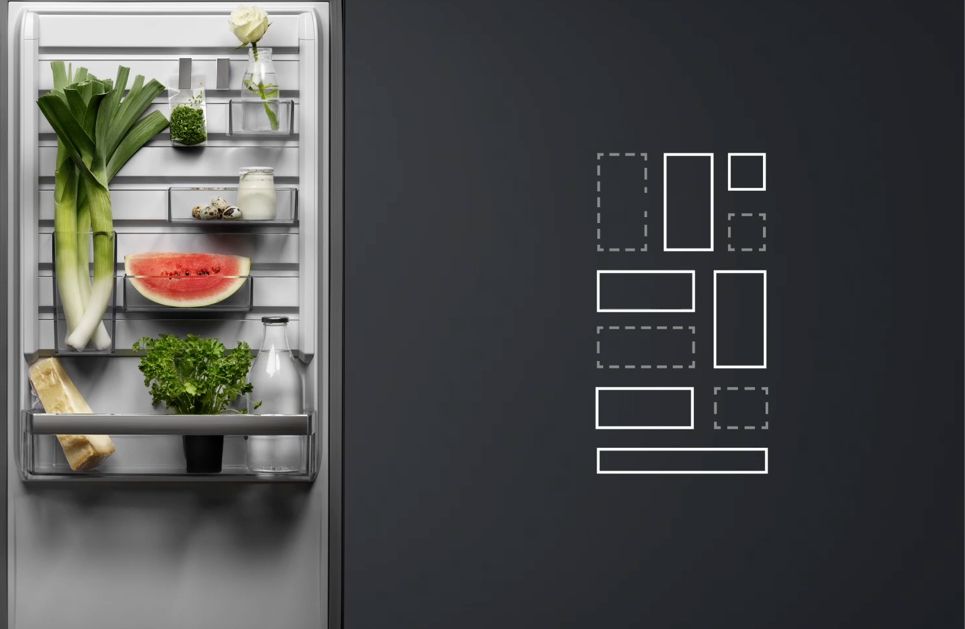 This fridge freezer really impressed me when I first watched the videos on AEG's website. Innovative and quirky. I genuinely thought, how has nobody thought of this already? But of course, AEG being the trend setting moguls that they are, they've taken refrigeration to the next level.
So, the CustomFlex is designed to maximise your space for fresh ingredients, the key to creating those delicious dishes of yours. The CustomFlex fridge freezer enables you to organise your door storage just the way you want it. You can move and rearrange sections quickly and easily to suit your needs. There are clips for herbs, clear boxes for cheeses, secure shelves for dairy, sauces and condiments. Everything precisely placed wherever you want it. How cool is that? You can just swap and change to suit you and your cooking requirements.
Hob2hood
A fresher kitchen hands free…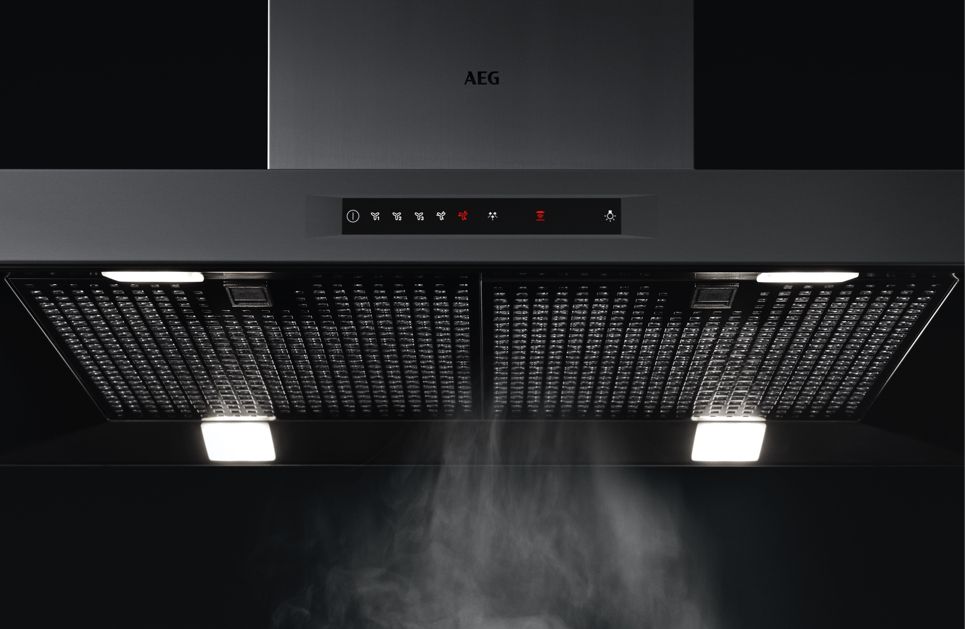 This remarkable appliance allows you to focus on what you're cooking, not on the environment around you. This AEG hood does all the work for you. Without even lifting a finger towards your hood, your hob will wirelessly activate and adjust your cooker hood fan speed automatically, based on what you're cooking. How amazing does that sound? Steam vapour disappears as quickly as it appears. So, no more bad kitchen smells! Just imagine all that beautifully clean air even whilst cooking. A nice fresh kitchen at all times.
MaxiSense pure with FlexiBridge
Your touch brings it to life…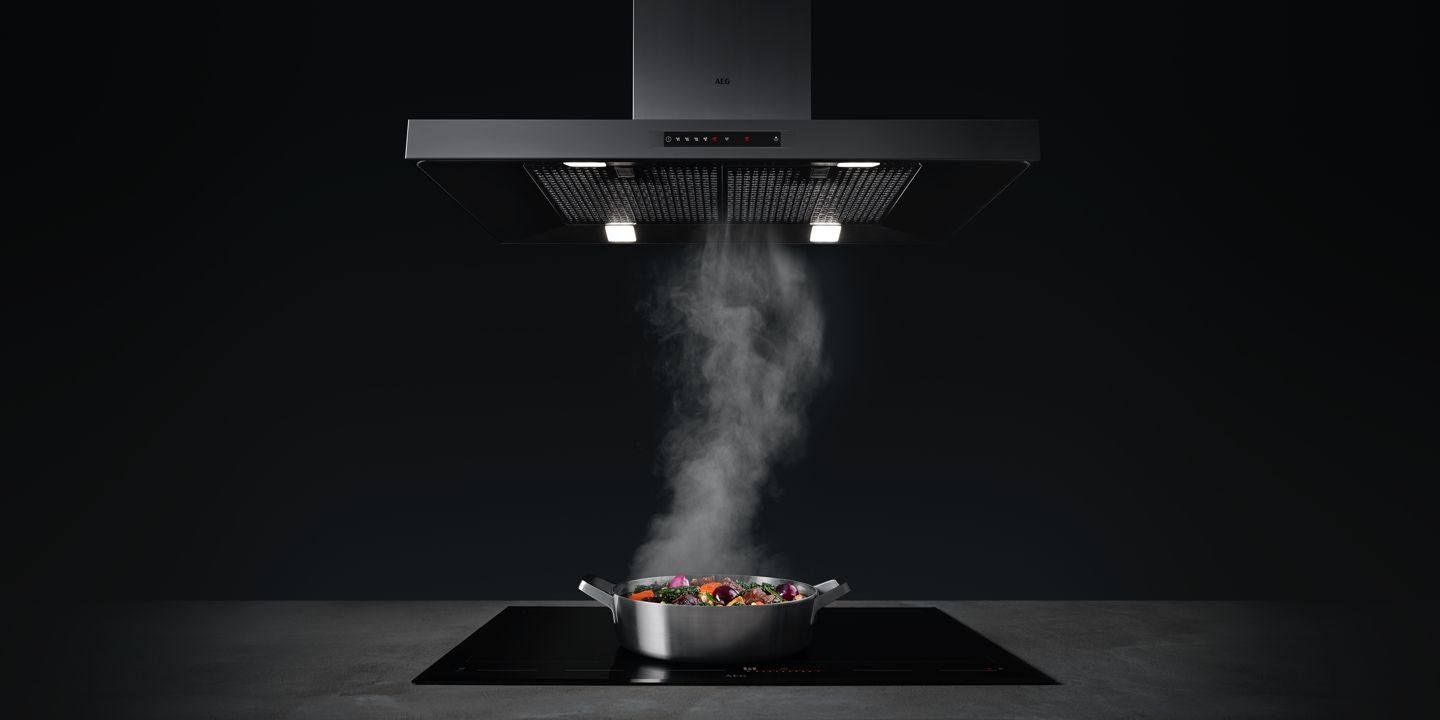 This hob is like nothing you will have seen before. Seamlessly built into the worktop the AEG MaxiSense pure with FlexiBridge combines a sleek glass design with highly responsive functions to transform your kitchen and cooking experience. The FlexiBridge surface has four cooking segments which can be combined to accommodate pans of any shape or size. This teamed up with the hob2hood make the perfect cooking combination. A real must have in your kitchen.
Prosource
Boiling water always on tap…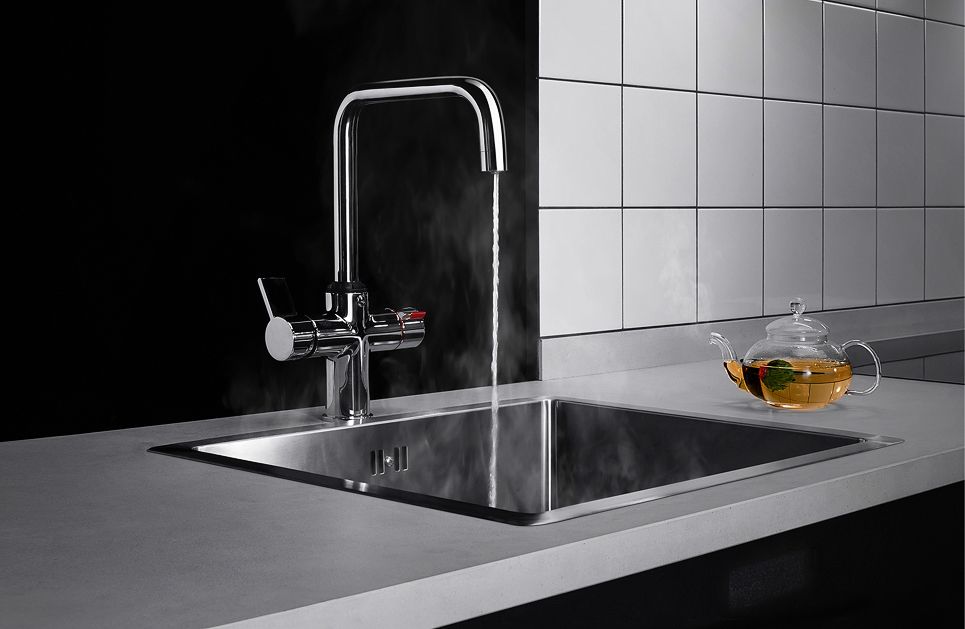 When raw to boiling, water becomes effortless, you've got more time to spend cooking and less time waiting. Just imagine how great it would be to not have to wait for water to boil again. With the Prosource, you don't have to. You can now enjoy the convenience of three taps rolled into one. Prosource delivers boiling, hot or cold water as pure as the mountain springs (yes, I did just say that), whenever you want and need it. The spout is insulated therefore keeping it cool to touch. It has a locking mechanism to protect children from dispensing boiled water. So, you don't have to worry about the little ones burning themselves. Safe, stylish and available in a choice of stunning chrome or stainless steel, it is no surprise that Red Dot awarded it best design in its category.
FoodSensor
Rare. Medium. Well done. at your command…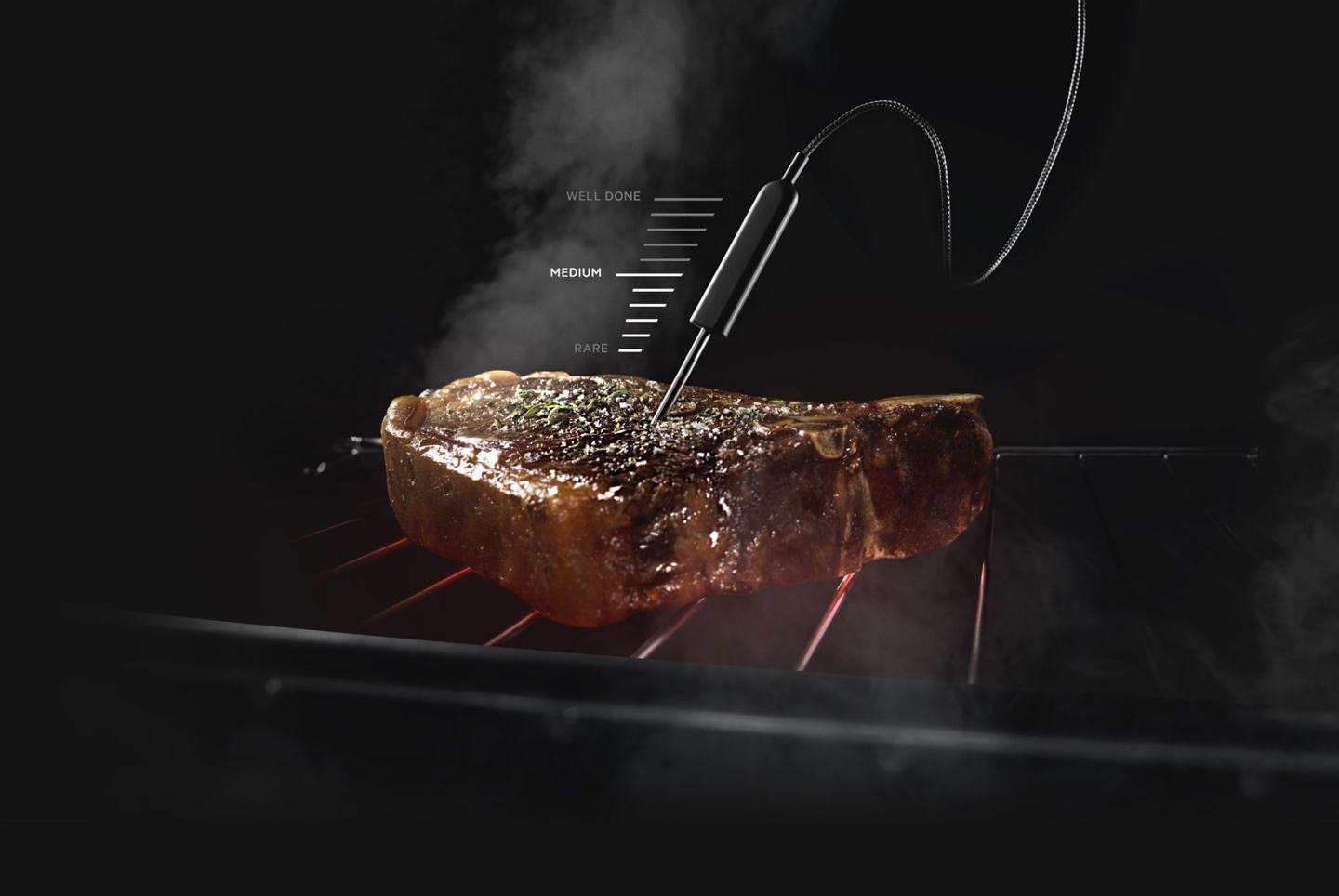 You could say this gadget is your new sous chef, your new partner in creating perfection. Whether it may be a steak cooked exactly how you like it, a succulent chicken roast dinner or a salmon fillet cooked to absolute perfection, use the FoodSensor to tell the oven how you want your fish. You can do this by using the same kinds of words you would use in a restaurant. For example, rare, medium or well done. Put all your trust in this oven to ensure it cooks your food just how you want it. You could say it's an oven that understands and speaks your language. Place the food probe into the meat or fish and let it work its magic. For perfect cooking, every time.
So, there we have a quick glimpse into the new AEG Mastery range, designed to change your culinary experience. Responsive cooking is the new generation of kitchen appliances, brought to you first by AEG. If you want a kitchen that looks after you, then this is the range for you.
If you require more information on this range, or any AEG appliances then please give a member of our team a call today. They are always happy to help 🙂 0115 965 1937