Hotpoint at Appliance City
Hotpoint as founded in 1911 – the first major product was an iron that got hot at the point to help get shirt collars stiff. From that point, Hotpoint have never looked back. The following years have seen the first Hotpoint Washing Machines, Vacuums, Refrigerators and much much more! Now, a Hotpoint appliance is sold every 19 seconds in the UK and you will find a Hotpoint appliance in 2 out of 3 homes.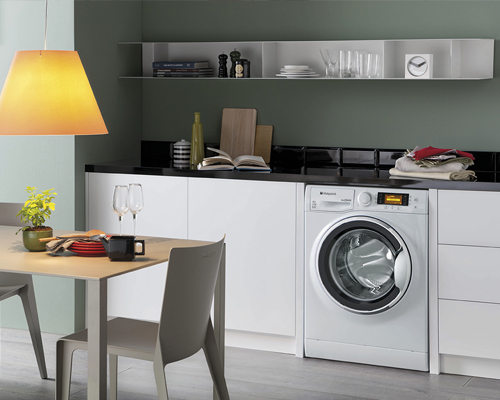 Hotpoint's laundry range has been designed to offer the removal of tough stains, the protection of your fabrics and anti-allergy protection for those of us who are sensitive souls. Offering innovative technology across the range, Hotpoint's washers and washer dryers feature anti-stain technology, anti-allergy programmes and carry Woolmark Accreditation that care for the clothes you love. They also have superb features like super silent motors, sensor drying, eco cycles which save up to 70% in energy, ready to wear in just 60 minutes and super wash that adds more power to your washing cycles. If you want to beat your stains and take care of your fabrics then Hotpoint are the ideal option.
Hotpoint's range of refrigeration offers you food as fresh as day one, air circulation throughout the fridge and reduced frost formation in the freezer. Their latest Active Oxygen 2.0 food as fresh as day one technology purifies the air by simulating nature's way of releasing oxygen molecules in the form of active oxygen, and naturally slows down the process of food deterioration. With superb features like frost free, low frost freezers with more space and less ice, air technology ventilation, food care zones and super freeze keeping your food fresh, Hotpoint refrigeration is a great choice for your kitchen. Reliable, functional and affordable – ideal for family homes.
Hotpoint dishwashers offer the perfect clean, the first time around. With perfect removal of stubborn food, natural elimination of odours and maximum loading flexibility, this range of dishwashers have outstanding technology for pristine results. Designed to eliminate even the most stubborn baked-on food and neutralise odours from dishes waiting to be washed, Hotpoint dishwashers take care of everything, leaving you stress free and with more spare time. The new intensive washing technology which concentrates its cleaning jets onto the zone with the most stubborn baked-on food, giving you 30% more cleaning power. The perfect addition to a busy household.
Browse Hotpoint by category

About Hotpoint
Hotpoint loves home, in all its various types and sizes. Quite simply, Hotpoint's mission for over 100 years has been to make your life at home easier. So whatever, you need Hotpoint has developed a product for you. A range of products, that always deliver outstanding performance, with the latest intelligent technology and functional stylish design.
Thanks to the innovative ActiveCare Technology, the new Hotpoint washing machine takes care of your garments by removing more than 100 stains at only 20°C. You simply need to choose one of 6 active washing cycles and then press the dedicated button to add your ActiveCare.
This system will activate; The Active Mousse – which is premixed of water and detergent, which increases the cleaning power by up to +60% and allows to wash at 20°C. The Active Drum – the drum is able to make up to 10 different multiple movements that allow the treatment of over 100 stains. The Active Load – the sensor is able to detect the load size and it optimises accordingly the water quantity and washing time needed for the specific cycle.
The innovative ActiveCare technology in Hotpoint's tumble dryers, reduces fabric wear out by up to 40%, minimising the stress on your garments, so that you can enjoy them for longer. They feature many useful cycles such as pre-ironing, cuddly toy, refresh programme and anti-allergy.
Hotpoint's new oven range are designed to give you free rein in your desire to try things out, letting you express your inner chef and creativity in the kitchen with consistently excellent results.
With features such as tailored programmes and multi-recipes you can enjoy professional cooking results at home. Automatically programmed recipes that select ideal cooking parameters such as heating elements, temperature, ventilation and timings, to ensure even the most gourmet dish will turn out beautifully. Enjoy 28 automatic pre-set recipes selected using intuitive touch controls. Try an array of pasta dishes, meat & poultry dishes, side dishes, cakes, vegetarian dishes, fish dishes, pizza & pie and desserts. Perfect cooking every time.
ACTIVE OXYGEN: ALWAYS ENJOY A FRESH SMELLING FRIDGE
Active Oxygen technology releases tri-oxygen molecules (O3) into the fridge, which neutralises unpleasant odours and helps prevent bacteria growth by oxidising it away. Active Oxygen is a molecule made up of 3 oxygen atoms – the same type that are present in nature and released into the atmosphere during a thunderstorm. Active Oxygen technology recreates this process inside your machine, so it doesn't need any refilling or maintenance. Keep your food fresher for longer and those unwanted smells at bay!