So here we are, another year gone, another year begun. They go so, fast don't they? We feel like we blinked and it was Black November again, blinked and it was Christmas and now were in a new year. Crazy.
So anyway, is 2018 the year you plan to re-do your kitchen? If so, we've got you covered. With thousands of appliances to choose from, ranging from range cookers, built in ovens, American-Style fridge freezers, dishwashers, washing machines, tumble dryers, to wine coolers, hobs, hoods and compacts. With price ranges to suit all pockets, and expert knowledge and advice, let us take away the stress of choosing your perfect kitchen appliances. Getting a new kitchen doesn't have to be stressful. Let your kitchen fitters do the fitting and let us advise you on what appliances suit the needs of you and your family.
We understand how expensive getting a new kitchen can be, and what is involved in the re-design. Therefore, we offer fantastic savings when you purchase multiple appliances with us.
We advise you to do your research first, have an idea of the style and functionality you require from your appliances. For example, consider if you need a range cooker or will a built-in single oven be sufficient? Do you require pyrolytic cleaning, perhaps a steam function? Do you have enough pots on a regular basis that you need a dishwasher? Do you need a large American fridge freezer or will a smaller 70/30 fridge freezer fit better in the space you have? Do you have a large family and need a bigger capacity washing machine? Is a wine cooler an essential appliance amongst your kitchen? Whatever it may be, be sure to think about it first. Also consider how you would like things to run. Energy efficiency, noise levels, fuel type, spin speeds, capacity, those kinds of things. This will help to narrow down your search. I mean with thousands of appliances, where do you even begin?!
Get a few models together, preferably the ones you would like in your kitchen and send us a multi-buy request or better yet call us. Our friendly sales team can give you all the advice you need around your appliances so you can feel rest assured you are buying the right appliances for your needs.
We appreciate this can be daunting, and therefore we try to help as much as possible. Making the right choices are essential as let's face it, you'll be planning on having this kitchen for some time before doing it, again right? So, we want everything to be perfect for you.
Don't forget, the bigger the multi-buy package the bigger the savings. And it is as simple as that. You can order your appliances with a small deposit and have them delivered to you when it suits you. If your kitchen is 6 weeks away from being completed for example, we will hold these until you're ready.
We have the lowest prices in the UK, with 100s of appliances in stock in our huge warehouse in Bunny, Nottingham. We offer FREE delivery to most of the UK and use our own delivery drivers. We pride ourselves on our customer service so we make sure from the moment you pick up the phone to place your order to the moment the delivery drivers deliver, unpack and take the packaging away you feel happy with the service you've received from us. Everything ends with a smile.
If you haven't bought from us before, we always like to hear feedback from our customers. Your reviews are very important to us. We pride ourselves on ensuring that your experience with us is a positive and happy one, so if we are lacking in anything, we like to know so we can improve on it.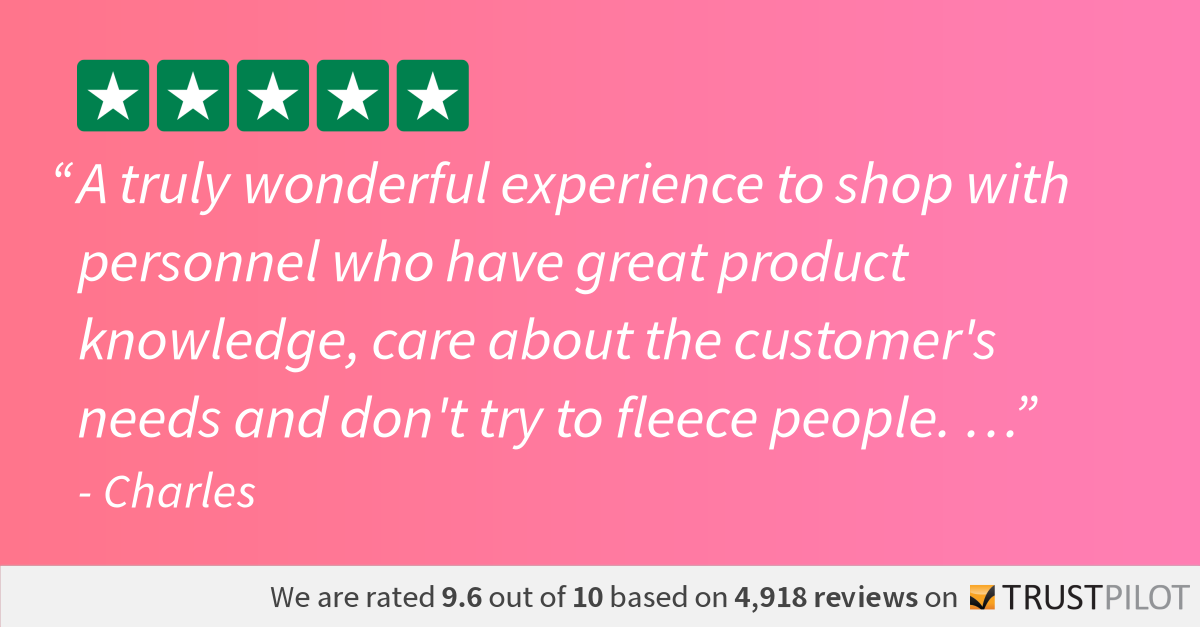 We are incredibly proud of our 9.6 out of 10 review rating on TrustPilot, you can read the reviews for yourself. We have the highest TrustPilot score for kitchen retailers in the UK. Read some of our reviews here:
https://www.trustpilot.com/review/www.appliancecity.co.uk
To browse all of our kitchen appliances, head to our respective cooking, laundry, extraction, refrigeration sections. We also have wide ranges of dishwashers, sinks & taps and small appliances for you to browse too.
So, is this new year the year for your new kitchen? Give us a call on 0115 965 1937 and speak to a member of our knowledgeable sales team. They are always happy to help 🙂