Amica FDR2213C 55cm Retro Fridge Freezer – CREAM
Amica FDR2213C 55cm Retro Fridge Freezer – CREAM
£399.99
Available to order
Call our sales team on
0115 965 1937
for delivery dates.
We love this distinctive retro style cream fridge freezer by Amica. Food will be kept in great condition in this high performance appliance and with 208 litres of space available there are great flexible storage options. This A+ energy rated fridge freezer is highly energy efficient and this means your bills will stay low and save you valuable money to spend elsewhere. Measuring 55cm wide the slimline design would easily fit into any kitchen space. The fridge has four safety glass shelves, three of which are adjustable. You can easily view the food inside your freezer as it is situated at the top of the appliance, making it easier to rearrange the contents at eye level.
2 Year
Warranty
Subject to registration on manufacturers website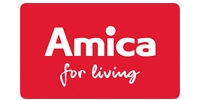 Total net capacity: 208 litres
Mechanical controls
Fridge section:
Net capacity: 164 litres
4 safety glass shelves (3 are adjustable)
Salad crisper drawer
Egg tray
Interior light
Freezer section:
Net capacity: 44 litres
4 star rating
Manual defrost
Ice cube tray
Freezing capacity in 24 hours: 2.5 kg
Storage time during power shortage: 12 hours
Noise level: 40dB
Energy rating: A+
Annual energy consumption: 219 Kwh
Height adjustable front feet
Dimensions: h1440 x w550 x d615mm (excluding handle)
Please note:
This product must be registered with Amica within 30 days of purchase to qualify for the 2 year warranty
Why is this product not priced?
There are many appliances on our website which are not priced, more often than not these are premium built in products which are being installed into a new kitchen. As we are very much a traditional retailer we offer specialist advice and product knowledge to ensure that the appliances in your dream kitchen suit your needs perfectly.
We track all of our major competitors daily so you can be sure that when we build a bespoke appliance package for you we'll be offering you the best possible price. We can also talk you through all of the options to ensure that you're aware of everything on offer, including new products and Manufacturer promotions which often need claiming after you've taken delivery.
Call our sales team now on 0115 9651937 to discuss your requirements.
Or if it's more convenient send an email to sales@appliancecity.co.uk and we'll come back to you.
Alternatively you could build a Multibuy list online and send it over, we'll be happy to put a quote together and send it back to you.